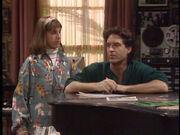 Blossom Blossoms is the second episode of season 1 of Blossom, but it was the first to be broadcast on NBC.
Blossom reaches puberty, and substitutes her older friend, Six, for her absentee mother to talk about it.
Guest starring
Edit
Phylicia Rashad as Blossom's Dream Mom
Giovanni Ribisi as Mitchell
Eileen Brennan as Agnes
Ad blocker interference detected!
Wikia is a free-to-use site that makes money from advertising. We have a modified experience for viewers using ad blockers

Wikia is not accessible if you've made further modifications. Remove the custom ad blocker rule(s) and the page will load as expected.