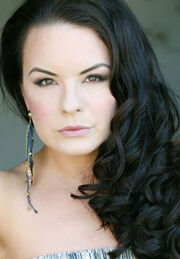 Jenna von Oÿ (born May 2, 1977) is an American actress and country music singer. She is best known for her roles as Six LeMeure on the NBC sitcom Blossom, and as Stevie Van Lowe on the UPN sitcom The Parkers.
Filmography
Edit
Year
Title
Role
Notes
1986
Tales from the Darkside
Stefa
Episode: "Season of Belief"
1987
At Mother's Request
Audrey Schreuder
TV movie
1990–1991
Lenny
Kelly Callahan
1990
Blossom Pilot
Six LeMeure
TV pilot
1991–1995
Blossom
Six LeMeure
1991
Family Album, U.S.A.
Michelle Bennet
1993
Saved by the Bell: The College Years
Herself
Episode: "A Thanksgiving Story"
1995
A Goofy Movie
Stacey
Voice
1995
Family Values
Phoebe Huck
1996
She Cried No
Jordan
Television movie
1997
Chicago Hope
Stacey Kagan
Episode: "White Trash"
1997
Unhappily Ever After
Bitsy Berg
Episode: "Little Miss Perfect"
1998
7th Heaven
Theresa
Episode: "...And a Nice Chianti"
1999
Moesha
Stevie
Episode: "It Takes Two"
1999–
2000
Pepper Ann
Trinket (Voice)
1999–
2004
The Parkers
Stevie
Ad blocker interference detected!
Wikia is a free-to-use site that makes money from advertising. We have a modified experience for viewers using ad blockers

Wikia is not accessible if you've made further modifications. Remove the custom ad blocker rule(s) and the page will load as expected.