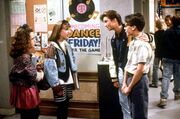 The Geek is the fourth episode of season 1 of Blossom.
Blossom blames herself for getting tricked into a date for the homecoming dance with Fred Forgety, a school "geek". Meanwhile, Joey wants to get his driver's license.
Guest starring
Edit
Chris Demetral as Fred Fogerty
Justin Whalin as Jordan Taylor
Paul Fusco as ALF
Ad blocker interference detected!
Wikia is a free-to-use site that makes money from advertising. We have a modified experience for viewers using ad blockers

Wikia is not accessible if you've made further modifications. Remove the custom ad blocker rule(s) and the page will load as expected.